Tripp Scott Augmented Its Team For Assisting Clients During Times of Financial Distress and Uncertainty
In order to assist our clients, business community and friends in dealing with legal issues arising from the current financial distress and uncertainty, Tripp Scott has further augmented its team of legal professionals available to assist those in need of experienced, competent and efficient legal advice and/or representation. Tripp Scott's team has been divided into practice groups which work in a collaborative manner in order to deal with the unique and complex issues which are arising in the current financial turmoil.
According to Bloomberg, the New York University professor who developed one of the best-known formulas for predicting corporate insolvencies has a warning for U.S. credit investors: this year's spate of "mega" bankruptcies is just getting started, Bloomberg News reported. More than 30 American companies with liabilities exceeding $1 billion have already filed for chapter 11 since the start of January, and that number is likely to top 60 by year-end after businesses piled on debt during the pandemic, according to Edward Altman, creator of the Z-score and professor emeritus at NYU's Stern School of Business. While the stimulus-fueled rally in credit markets since March has helped borrowers stay afloat during the coronavirus crisis, Altman and others have warned that many companies are just delaying an inevitable reckoning. Fitch Ratings estimates worldwide corporate bond defaults this year could exceed levels reached during the global recession in 2009. The International Monetary Fund downgraded its outlook for the world economy in June, projecting a deeper recession and slower recovery than it previously anticipated. The World Bank has also forecast that more than 90 percent of economies will experience contractions this year, higher than the rate seen at the height of the Great Depression.
The practice groups that comprise the Tripp Scott Financial Distress Team are as follows: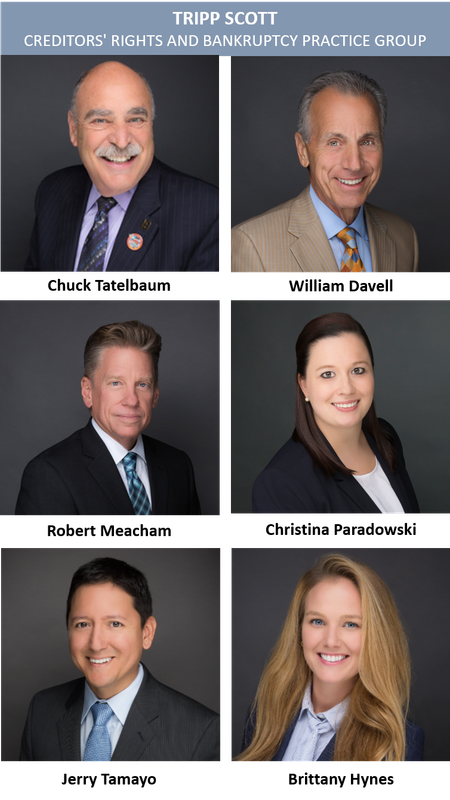 Members of this group have collectively more than 130 years of experience in dealing with the complex legal issues that arise as a result of bankruptcies, insolvencies, failures to pay and breaches of contract. These team members have developed proactive methodology to assist clients in analyzing issues at an early stage and taking actions to assist with the curtailment or elimination of losses. The senior members of this team have had hands-on experience during prior economic downturns and recessions that can be applied to solve the problems that will arise in this environment representing secured creditors, unsecured creditors and counterparties to contracts, insurance policies and franchises. Additionally, because of the US bankruptcy courts' nationwide use of telephone conferencing for hearings and meetings of creditors, the members of the practice group have a nationwide reach as evidenced by the practice group's involvement in significant bankruptcy proceedings such as the Hertz Corporation and others. This allows the firm's creditors' rights and bankruptcy practice group to provide advice and assistance to clients needing advice or representation without geographic restriction.
The members of this team include the following:
Charles Tatelbaum, William Davell, Robert Meacham, Christina Paradowski, Jerry Tamayo, Brittany Hynes, Paul May, Jr.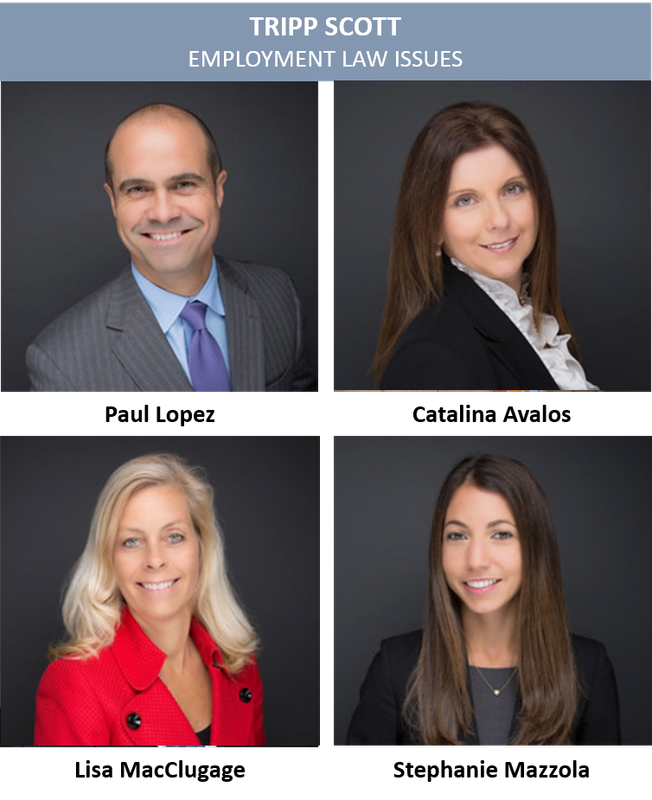 The economic uncertainty and the expiration of many of the government financial incentives has required employers to navigate the very uncertain waters of furloughs, layoffs, terminations and collective-bargaining agreements. which may require reductions in staff and modification of employment agreements. The employment law team has more than 60 years of collective experience in advising employers and top executives as to methodologies in order to deal with the many unique employment related issues that are arising on a daily basis.
Members of this team include the following:
Paul Lopez, Catalina Avalos, Lisa MacClugage, Stephani Mazzola
With the legal and practical issues that have arisen and will soon develop as a result of an economic slowdown with respect to ongoing and prospective commercial and residential construction, the team members' experience in dealing with these complex issues representing owners, developers and lenders will help to proactively minimize losses as well as legal expense.
Members of this team include the following:
Robert Meacham, William Davell, Christopher Barber, Stephanie Mazzola and Jerry Tamayo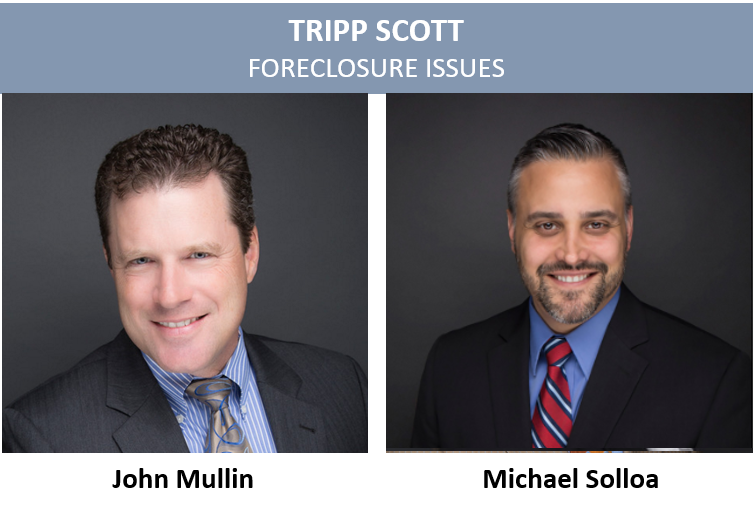 Experience in past financial downturns has shown that commercial and residential lenders are faced with not only financial delinquencies and defaults, but also requests for restructuring. With the various moratoriums imposed by governmental authorities and the need to enter into forbearance agreements, the landscape of dealing with real estate mortgage defaults and foreclosures has dramatically changed. These are complex areas where experience and knowledge is necessary in order to take proactive steps to reach successful resolutions that solve short-term and long-term issues. Members of this team gained valuable experience during the economic downturn of 2008 to 2010, which experience is invaluable as we move forward.
Members of this team include the following:
John Mullin and Michael Solloa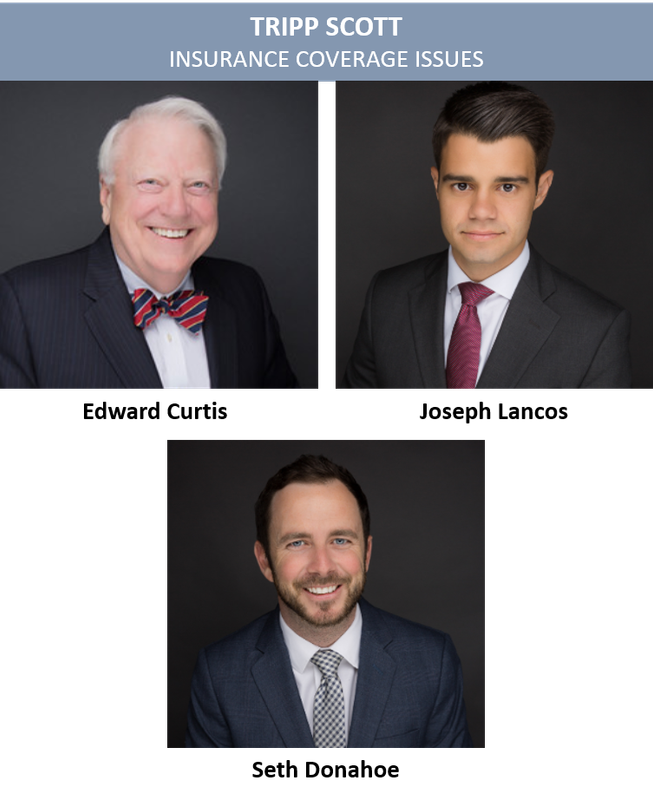 As businesses are suffering sometimes catastrophic losses as a result of the never before circumstances beyond their control, careful attention needs to be paid to existing insurance coverage in order to determine if all or some of the losses may be reimbursed through the insurance policies. Once such losses are suffered, immediate experienced consideration needs to be given to the extent of the coverage, the need for prompt notice to the insurance carrier, and evaluation of all rights and remedies under the existing insurance policies. The team members have demonstrated experience in maximizing insurance coverage recoveries when appropriate.
Members of this team include the following:
Edward Curtis, Joseph Lancos, Seth Donahoe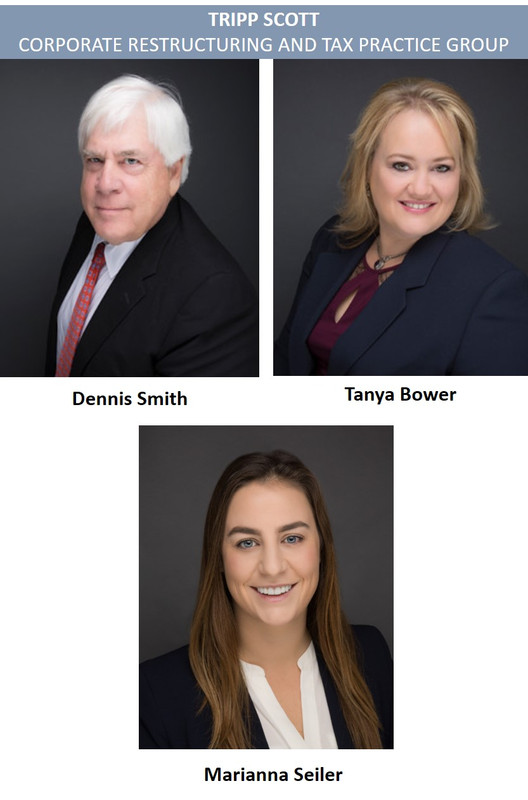 The unique financial crisis that has developed and the uncertain issues on the horizon have shown the need for client advice on restructuring and revising corporate and tax issues that are now unique to the current financial situation. Our practice group members have decades of experience in partnering with corporate clients to review, analyze and modify, if needed, corporate structuring so as to create the flexibility needed in today's economy. With the likely increase of mergers, acquisitions and takeovers which will be generated by the mushrooming financial distress for many business entities, the need for experienced and comprehensive legal knowledge in this area is critical.
Members of this team include the following: